Your Transfer Credit Report gives you information on all the transfer coursework we have for your record. It will include your transfer GPA from other institutions, as well as your test scores like AP and CLEP. This is a great place to look at whether a transfer course received GE credit. Be sure to check this often, especially if you have updated transfer work. This will be updated once your updated official transcript from the other institution has been received and processed by us. Please read the instructions below to access your Transfer Credit Report.
Log in to MySSU and select the Student Center tile
Under 'Academics', click the drop-down menu titled other academic.
Select 'Transfer Credit: Report' and then click the blue arrows to the right of the drop-down menu.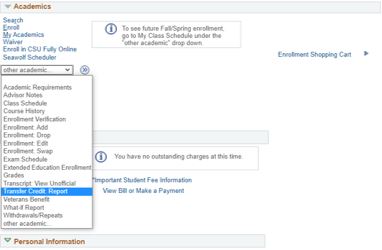 The Transfer Credit Summary page is displayed. 
Summary of External Credits shows all of your Transfer Credit, Test Credit, and any other credit transferred in (such as Military credit, etc.).
Next you will see the details of your External Credit
The second tab (Additional Info) will show you the equivalent SSU course (if applicable) and any applicable GE designations.
Any applicable Test Credit will show under the Test Credit tab alongside what credit was received from each test