Checking Holds
Checking your holds periodically can help you tremendously to ensure that you are able to register by your appointment time. Please note that some holds may take a couple days to clear your record. Please read the instructions below on how to see if you have any holds. 
Log into your MySSU.
When you log into your MySSU, be sure that you are under your Student Self Service. If not, you can click the drop-down arrow to select it. 
Click on the Student Center tile. 
You should see a holds list on the right side of your Student Center. If you do not have any holds, it will say "No Holds". If you do see a hold, you can click the Details link
You can click on each hold for more information.
The details will provide you information on departments to contact to lift a hold or if the hold will affect registration. For a list of holds and whether they will affect your registration, please review our Holds.
How to View Your Registration Appointment Time
Now that you have reviewed any potential holds and have taken care of them, you're ready to view your registration appointment day and time.
Return to your Student Center page. There, on the right, you will see the date and time of your appointment. In this example, the student's appointment starts July 8th at 8:00am: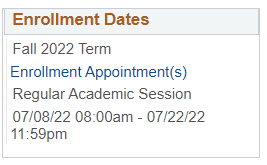 Click on the Enrollment Appointment(s) hyperlink for additional information. You can verify your start and end dates for your appointment and see the total amount of units you can register for and how many you can waitlist.